There are a lot of reasons why you should hire a great dryer vent cleaning service. Firstly it takes an experienced company to get your vent cleaned to avoid the hazards that it holds. There are many benefits of hiring a great vent dryer firm, and this post will discuss a couple of them.
PREVENTS FIRE
This is one of the top benefits of hiring top companies. Top firms will be able to determine the condition of your dryer vent and clean it to avoid the common fire hazard that can come with clogging.
EFFECTIVE AND THOROUGH AFTER CLEANING TIPS
Apart from helping you clean your vents, one of the top benefits of hiring the best dryer vent cleaning company is the top tips that they give after cleaning. These tips help you reduce the clogging of your vents, how to know when cleaning is due and how to ensure that there is never a fire outbreak at any point.
AFFORDABILITY
One of the major features to determine the best dryer vent cleaning company is its affordable dryer vent cleaning. An affordable dryer vent cleaning service gives you the luxury of saving more while you get great work done on your dryer vent.
FEATURES OF A TOP DRYER VENT FIRM
UP-TO-DATE AND ADVANCED TECHNOLOGY
To get a great firm that offers effective dryer vent cleaning service, you would need to ensure that you are employing a company that makes use of the latest HVAC cleaning technologies and services when attending to clients. This will make the cleaning more effective and thorough as all molds, dirt, and clogs will be eliminated.
GREAT TRACK RECORD
Whether you are hiring a company that offers residential or commercial dryer vent cleaning services, one thing that you would want to ensure is that you are hiring a reputable firm with years of great reputation in cleaning.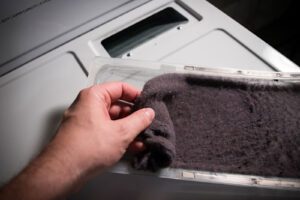 Finding a company with an excellent track record is not difficult as you can easily look up the reviews of customers that the company has on its official website and check out the company's public view and perception.
This will help you make a much more informed choice than just picking any company.